Hello! It's Niki from Rebel Recipes here.
This weekend I was lucky enough to attend the Golden Spurtle aka The World Porridge Championship in Carrbridge, Scotland and what a fun and slightly quirky event it was!
The first thing you should know is that a 'spurtle' is the traditional utensil used for stirring the porridge and it's wooden and stick-like. I now have one.
Competitors came from around the world, all super-passionate about porridge.
As the competition has been running for 24 years (2018 sees the 25th anniversary celebrations) there is a healthy competitive vibe with some jovial but long-standing rivalries and allegiances.
Contestants have the opportunity to enter two categories:
Traditional – just oatmeal (NEVER oat flakes), water and salt. Each competitor has their own way of making the porridge with their own favourite oatmeal and proportions. The 'spurtle' must be used to make the porridge.
Speciality – this can be anything, sweet or savoury, but oatmeal must be used.
There were four heats of 5—6 contestants and they had a maximum of 30 minutes to cook both the traditional and speciality dish.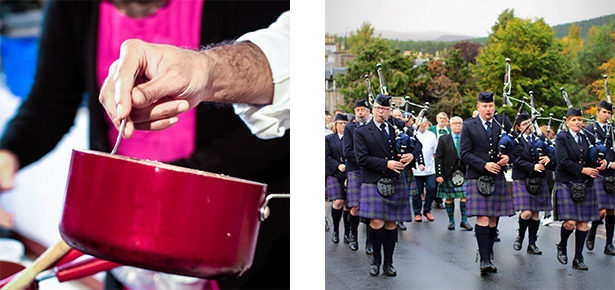 The incredible thing was the amazing variation in the traditional porridges given that it's just made from three ingredients, proving that oatmeal can greatly vary. Here's a quick overview:
Pinhead/Coarse Oatmeal. Made from cutting the groat into three. Great for traditional porridge or savoury dishes.
Medium and Fine Oatmeal. Made from grinding Pinhead Oatmeal. Perfect for porridge or baking, i.e. breads or cakes.
The Golden Spurtle 'Speciality' entries were super-inspiring and ranged from uniquely flavoured porridges to kedgeree, brûlées, bircher oatmeals, risottos etc. I can't wait to use Coarse Oatmeal in more savoury dishes as a nutritious replacement for rice.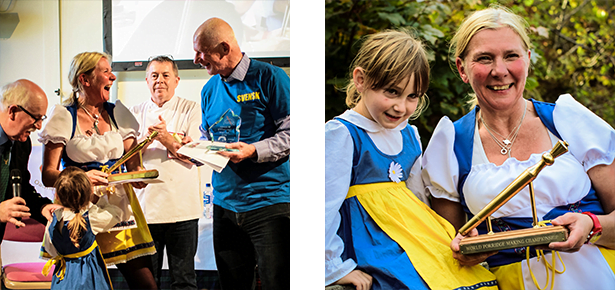 In the end the Traditional category was won by returning Speciality champion Ellinor from Sweden, who is infectiously passionate about porridge and has no secret formula for the perfect porridge, but judges it on her own feeling for it.
The Speciality category was won by fellow Swede, Per, and his delicious oatmeal brûlée.
I thoroughly enjoyed my time at the Golden Spurtle, the friendly locals, the traditions and most importantly the absolute passion for porridge.