In our regular story series Mighty Oats for Mighty People, Mornflake meets inspirational people worldwide to talk stellar achievements, complex challenges and incredible accomplishments.
This month we're talking to Karen Bourne, an inspiring mother of two who's tackling 29 running challenges in a year to raise money for Mind, a charity close to her heart, as part of The 29 Challenge.
Karen's story is a touching and personal one, it's clear her determination and passion for mental health awareness are her driving force. Why The 29 Challenge, we asked, and what inspired her to start it? "The 29 Challenge started with a decision to participate in 29 runs over the course of a year with the aim of raising £29,000 for Mind – The Mental Health Charity. My brother passed away when he was 29 – it was sudden and such a shock, tragic and incredibly sad. There were so many questions, and unfortunately no answers. I wanted to do something positive in his memory and, in the process, really engage in the conversation about promoting mental health in a positive light. I chose to raise funds to support the vital work being carried out by Mind, to help their services continue to be there for those experiencing a mental health challenge or crisis."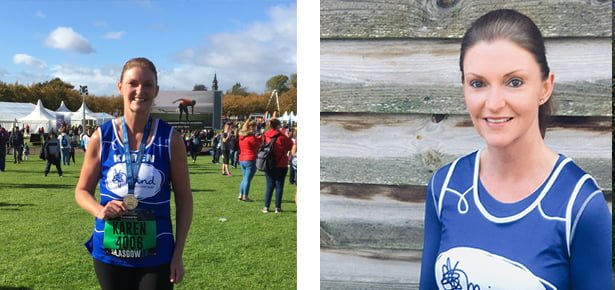 That sounds like a wonderful but all-encompassing project, how do you balance training and the rest of your life? "Sometimes better than others, it is certainly a juggle. As for most people, life can be pretty busy. But if there is something that is important to you, you have to make time for it. So the training has been scheduled in to each week, on a week-by-week basis, to make sure that the training is done and it works flexibly around our family and work commitments."
You sound incredibly motivated, there must have been some tough moments, physically and mentally, along the way? "I knew from the outset that The 29 Challenge was never going to be easy but that it would always be worth it. I also knew that I would complete it, even if I had to make changes along the way. The reasons for doing The 29 Challenge and the focus that this gave me has always given me the motivation to get to the next stage at each and every point throughout the year. One of the toughest points came quite early on; I had a tear in my calf muscle in December which was very painful and meant that I couldn't run for almost 4 weeks. Fortunately I didn't have any of the Challenges booked for December but it did impact heavily on my training."
We hope, as with most fitness challenges, there have been some highs too. Has there been a happiest moment so far? "There have been lots of happy moments along the way. The support and encouragement and collecting each of the medals has been great. The decision to start The 29 Challenge was only made a few days before I started it. Most people didn't know what I was about to undertake. The JustGiving fundraising page and a dedicated Facebook page were set up the night before it began and I shared it on the morning of 1st October 2017 as I headed out to take part in the first Challenge. By the time I looked at it again later, I had so many messages of support and had over £600 in donations – I couldn't believe it. It was definitely a happy moment."
So you've been training for this continuously for over a year, that sounds like an awfully long time. Most people struggle to train for one running event, how have you mentally prepared for 29? "Some runs are definitely harder than others. It depends on so many things including the distance, how I am feeling on the day and the weather conditions. And the range of distances has been a challenge in itself. But regardless of anything else, my reason for doing The 29 Challenge is resolute and that carries me through all of it. I believe that everything is possible if you believe in yourself. If something is important to you, as long as it is for the greater good for yourself or others, you'll find a way to make it work."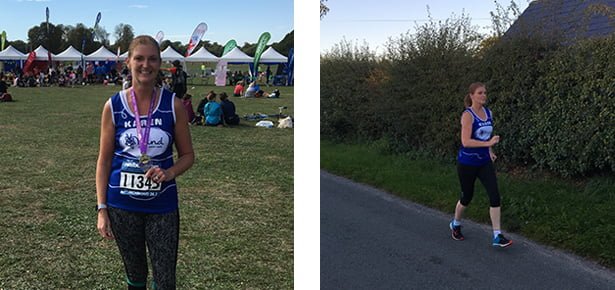 Even with such motivation and drive, you're a working mum with two young children, trying to fit lots into each day – can you describe what a typical morning might look like? A typical morning is fairly busy, especially now that I'm working full-time. Juggling work and getting things organised to get to school is the usual weekday morning. The weekends are a bit different. All of the Challenges take place at weekends, mostly on a Sunday morning, and I also have to fit in some training runs. I have been very clear from the beginning that it had to work around and alongside our lives in a positive way so we work together to slot things in to ensure I am still around to have breakfast as much as possible.
Fuelling your body with the right foods must be an essential part of your routine, what do you have for breakfast before a run? "Sometimes I'll have porridge with a little banana and some honey, and sometimes it might be an oat bar that I have made and I'll have that with a banana." It depends on how long the run might be and what time I have available.
Karen, just one last question, why do you enjoy eating porridge and what is your favourite porridge topping? "It is a natural, healthy and filling start to the day. I enjoy it with some pear, cinnamon and chopped almonds."
You can donate to Karen's fundraising or find out more about The 29 Challenge here.