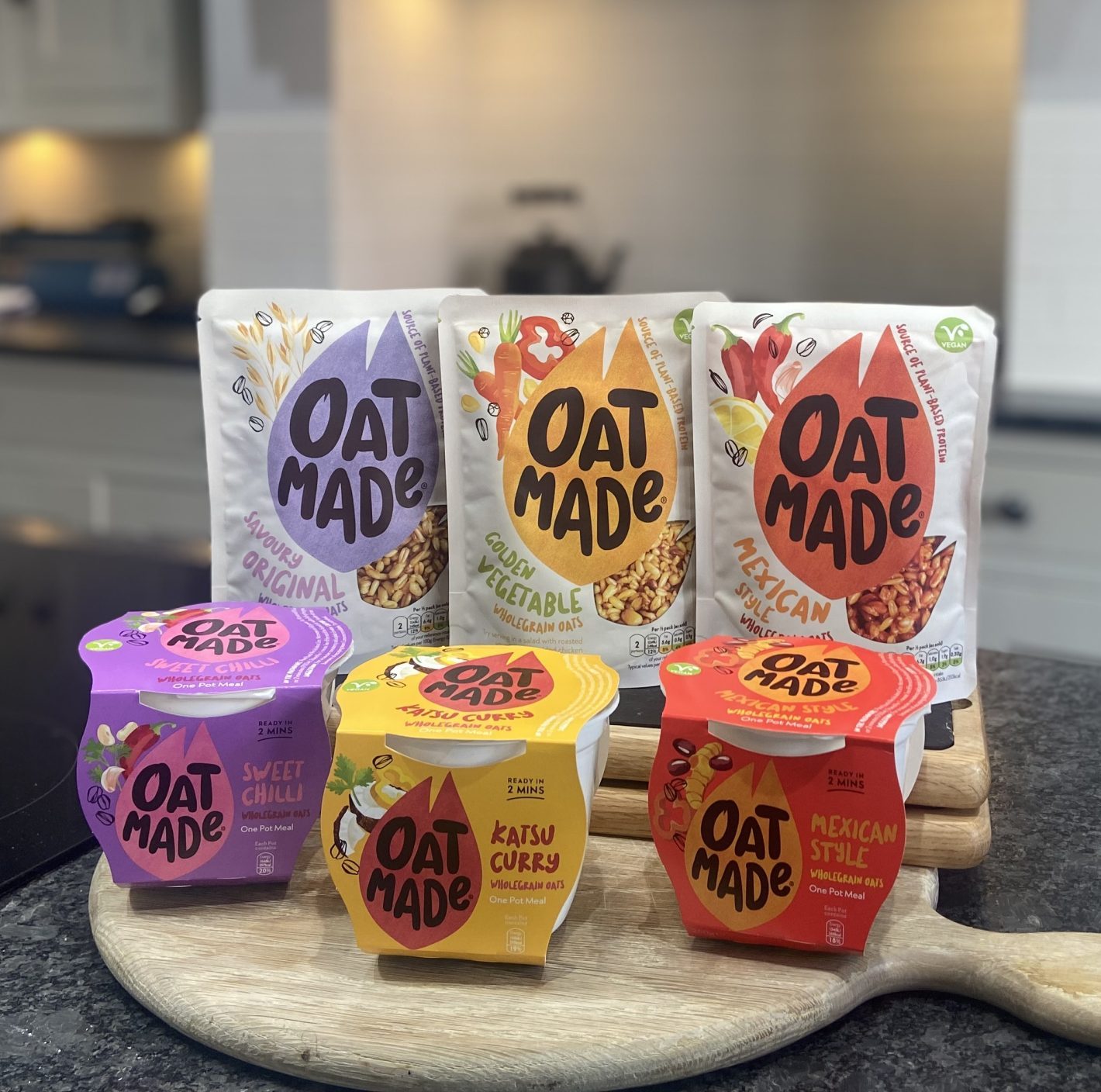 Oat Made has broken oats out of breakfast and in doing so created brand-new eating occasions for this much overlooked super-grain. The humble oat has been a food staple for centuries, but hasn't until now, been developed for meal times outside of breakfast.
Available in two formats; a one-pot-meal in Katsu Curry, Sweet Chilli and Mexican flavours, creating a delicious on-the-go eating occasion for busy lives. A pouch designed to add taste and versatility to a plethora of meals and recipes from all over the world, available in Golden Vegetable, Mexican and Savoury flavour profiles. Both are ready in just 90 seconds providing a convenient and versatile meal solution. Oat Made has a nutty texture similar to pearl barley and other savoury grains and is a healthy alternative to rice, noodles and pasta. What's more the pouches, pots and cardboard sleeve are all 100% recyclable.
Oat Made is fit for a modern meal repertoire catering to vegans, vegetarians, flexitarians and ideal for those wishing to reduce their impact on the planet. Oat Made is produced using 100% British groats, the hulled kernel of the oat, they are whole grains that include the cereal germ and fibre rich bran portion of the grain as well as the endosperm. They are packed with nutritional benefits, a source of fibre and as part of a healthy and balanced diet help actively lower cholesterol. Oat beta glucans have been shown to help lower blood cholesterol, blood cholesterol lowering may reduce the risk of coronary heart disease, one 125g portion of Oat Made provides at least 1.5g of beta glucans from oats, half of the suggested daily amount.
Achieving the necessary quality of oats for Oat Made pots and pouches, starts right back at the farms where the oats are grown. By working with a network of farming partners we're able to produce the best quality oat grains. Once harvested these go through a series of quality tests, ensuring that only the plumpest are selected. The difficult and delicate cooking process ensures that the grains maintain their structure, whilst taking on sufficient moisture and flavour to provide the required bite and taste profile unique to Oat Made. It's this dedication, knowledge and understanding of this versatile, delicate grain that sets Oat Made apart.
Oat Made is a healthy, satisfying and delicious vegan meal and meal accompaniment using a great British grain crop, that takes a humble ingredient and elevates it into a brand-new eating occasion.