In our story series Mighty Oats for Mighty People, we meet inspirational people worldwide to talk stellar achievements, complex challenges and incredible accomplishments. This month, we're talking to Scottish Professional rugby player Jade Konkel about what keeps her focused and fuelled.
What inspired you to get into rugby?
I grew up in a rugby family, in the Black Isle near Inverness. My dad played for the local team, where I spent Saturdays as a kid running up and down the sidelines counting his tackles. When I was nine, I was allowed to play in an all boys mini's team for one year. After the year was finished, there wasn't another pathway for girls and being the only girl, I just stopped playing.
On my school lunch break, I used to search 'Scotland Women's Rugby Players' on the library computer, I was mesmerised by the female athletes – they were like superheroes.  When I was 17 I drove to Edinburgh for a 'senior development day trial'. I ended up being invited to the National U20s camp and was then invited to the Senior Squad – alongside many of the same superheroes I would see on my computer. I got capped for Scotland in 2013 and have played ever since. In 2016, I was offered the first female professional rugby contract in Scotland. This was it – I wanted to show that it didn't matter where you were from, with hard work, dedication, and resilience, other people can do it too! I was first but certainly won't be the last and this is what is incredible.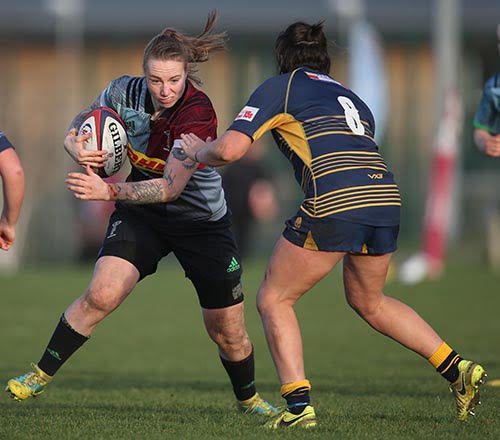 What are some of the hardest and most challenging things you have done that have made you feel truly Mighty? 
I have had a lot of injuries. I've had 2 shoulder operations, a hand operation, ruptured PCL, torn quads, hamstrings, ligaments in my ankles and had quite a few concussions. These are just some in the list. Getting back from these injuries and being in a better place than I was before make me feel mighty proud.
Back in my first Six Nations campaign, we played France away. Our captain fell ill and only played the first half so I had to move into her position (Number 8 – the position I actually play now). I remember lining up in the tunnel waiting to run out and sing the anthems and the French were lined up next to us. I looked to my left and saw the biggest athletes I had ever seen in my life. The crowd was roaring, the French always do things really big when it comes to rugby. It was certainly an atmosphere that I was not used to. Little 19 year old me with little shoulders was definitely terrified. Their number 8 Safi N'diaye looked in prime condition ready to eat me alive. In that match, it literally felt like I was being swotted away like a fly.
Seven years later, thousands of hours of hard training, better understanding and one heck of a barrel of tenacity and resilience, I'm still playing against Safi N'Diaye and this time giving as good as I get!
Who is your inspiration?
My inspiration definitely comes from my family, as cheesy as it may sound! They have helped shape me into the person I am today and helped me follow my dream. A lot of which wouldn't have happened if my mum didn't drop me off at my after school activities or drive me around the country to take me to play for those random teams throughout the years.
Do you have any challenges or goals you're working towards this year or in the future? 
Within Harlequins, it's our goal to win Tyrells 15s Premiership and grow into the best female club rugby team in the world, which I have no doubts about achieving. With Scotland, it is to qualify for the 2021 World Cup in New Zealand. Personally, I want to keep working to be the best athlete I can be and help reach the goals with both of my above teams. I have also just started my own company 'Apex Training & Performance' which is a mix of online and face-to-face PT so it is my goal to continue working to build this into a successful business and help people evolve into the best versions of themselves.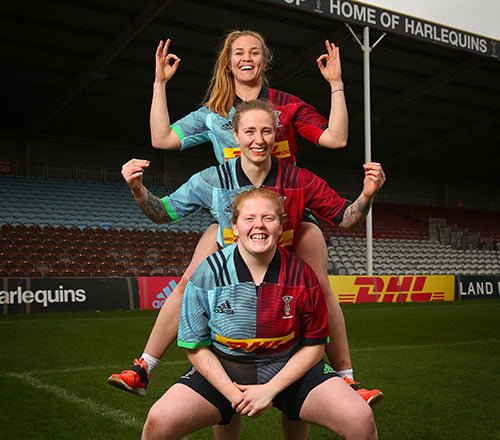 What does a typical morning look like for you?
A typical morning for me would look getting up at 5am ready to smash breakfast one of the day – Mornflake Oats porridge of course. But I go the full works. The hob is on, I make it with water, I add some protein powder in, some hemp seeds, chia seeds, flax if I'm feeling fancy and top it with frozen fruit, so it slowly melts with the heat of the oats. I like to top it with a light dusting of coconut sugar too.
Then I'll head out to set up for morning bootcamp which runs 6:45-7:45 am. After bootcamp, I'll head through to a coffee shop in Guilford near Harlequins to get breakfast number two down (again…. overnight Mornflake oats with some frozen fruit) and get some of my work done. This could be work from my company or it could be rugby analysis, looking at team plays, planning for the next National Camp etc.
What advice would you give to anyone who needs the inspiration to get involved in professional rugby?
Follow your dreams and make it happen. If it's something you truly want, you have to work for it. Work hard and enjoy the process. Learn from any failures or setbacks that will come along the way as these are inevitable. It's how you react, persevere and push on from these that will shape you into the athlete you can become.
What would you normally have for breakfast before a rugby match or training session?
I literally could have porridge for snacks, breakfast, lunch and dinner but I try to limit myself to 2-3 bowls per day. Without a doubt I have oats every morning and usually again for breakfast number two. The toppings vary depending on what the day entails and whether or not I can bulk up the calories. I take a tupperware of oats for pre game in the changing room, to have a short while before warm up.
What's your favourite porridge topping?
Oats are an easy food choice for on the go and a great release of slow carbohydrates to fuel my sessions. Breakfast wouldn't be right without frozen mango and cherries along with coconut sugar!