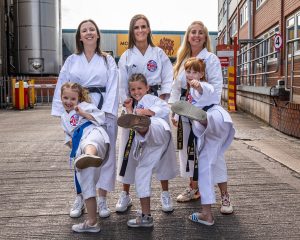 The Zenshin Ryu karate Club which holds classes at Yoxall Village Hall in Haslington and Wyche House Bank, Nantwich has received backing from Mornflake as it prepares to send three star pupils to an international contest in July.
Representing the club and their country will be eight year-olds Thea Heys and Grace Leigh from Haslington and Bella-Ashleigh Smethurst from Sandbach.
Sensei Natasha-Paris Matthews who is a 4th Dan is the Chief Instructor of Zenshin Ryu, said: "The WUKF World Championships are held every year all over the world. This year they are in Scotland presenting an amazing opportunity for karate talent in this country.
"The standard is so high only the best of the best can compete so to be selected is an absolute honour.
"We are so grateful to Mornflake for their sponsorship as it will help massively with the costs of competing in the world championships. The money will be used to pay for the girls to enter the competition which is quite costly."
Thea and Bella, both black belts 1st Dan, and Grace, a blue belt, are training hard for their debut in this major competition.
They are backed by parents who train with them at the club which encourages families to share karate as a hobby.
Grace's mum, Amanda Leigh added: "Grace started karate in 2021 and it has become a real passion for her. We are so grateful for the opportunity to compete at Dundee in the World Championships. Grace still can't believe she is going. I personally want to thank Mornflake for their support. It really does mean a lot."
The championships take place from July 13-16 when thousands of children and adults from all over the world will compete showcasing the karate disciplines of Kata and Kumite.
Mornflake, a keen supporter of health and wellbeing initiatives in the community, has given the club a £250 boost and provided its award-winning breakfast products to fuel competitive spirit.